IAF Jakarta: ASEAN Business Experience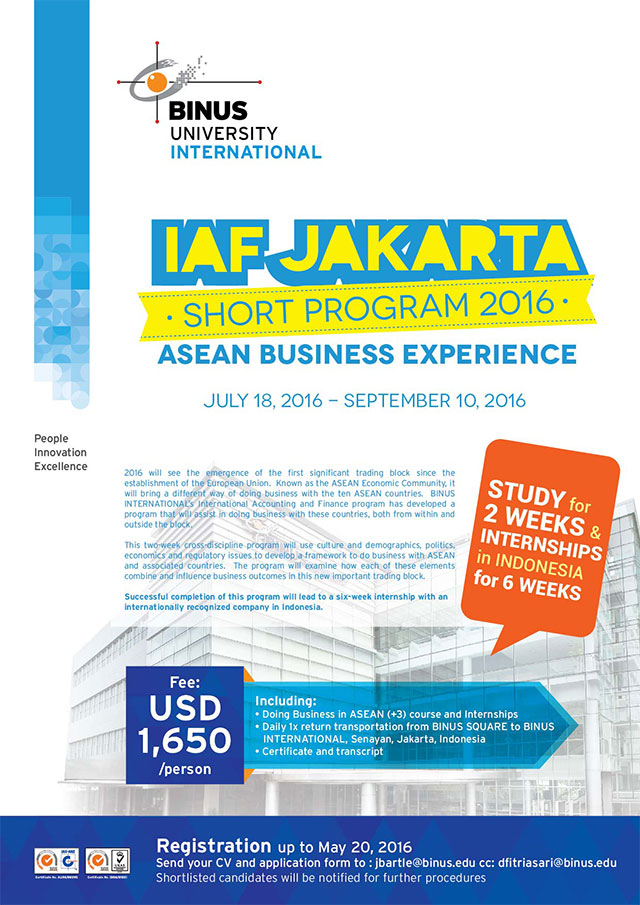 2016 will see the emergence of the first significant trading block since the establishment of the European Union. Known as the ASEAN Economic Community, it will bring a different way of doing business with the ten ASEAN countries. BINUS INTERNATIONAL's International Accounting and Finance program has developed a program that will assist in doing business with these countries, both from within and outside the block.
This two-week cross-discipline program will use culture and demographics, politics, economics and regulatory issues to develop a framework to do business with ASEAN and associated countries. The program will examine how each of these elements combine and influence business outcomes in this new important trading block.
Successful completion of this program will lead to a six-week internship with an internationally recognized company in Indonesia.
James Bartle, Ph.D.
EFMD EPAS Project Manager of International Accounting & Finance Program, BINUS INTERNATIONAL

James Bartle started his career in the Commonwealth Bank of Australia in 1982. He left 1993 having reached the level of Senior Manager and commenced his academic career at the University of NSW, Australia (UNSW). He stayed at UNSW until 2013, when he moved to Jakarta Indonesia and commenced teaching at BINUS University International. James has consulted with a large number of public and private entities including Societe Generale, KPMG, the Indonesian Government, APEC Financial Regulators, the Australian Taxation Office and Australian Securities and Investment Commission. James holds degrees in Econometrics, Finance and Banking, has worked in a number of Asian Countries. His research interests are Banking and Asian Economics.

Dewi Fitriasari, Ph.D., CSRA, CMA.
Head of Program of International Accounting & Finance, BINUS INTERNATIONAL

Dewi Fitriasari, Ph.D., CSRA, CMA has her doctoral degree in Accounting from Aarhus University, Denmark. Besides being the head of program of the International Accounting & Finance of Binus International, she is active as the board of examiner chair for Certified Sustainability Reporting Specialist and Certified Sustainability Reporting Assuror. Her research interests are in Sustainability Accounting, Managerial Accounting and IFRS adoption in different countries.
Participants will reside at BINUS SQUARE – Hall of Residence, a boarding house intended for student and located near BINUS campuses.
Participants will do the internship at public accounting firm and accounting / finance department at National and Multinational Companies in Jakarta
Applicants who wish to participate in the Short Program must apply by May 20, 2016. Please send your CV and application form to: jbartle@binus.edu cc: dfitriasari@binus.edu. Shortlisted candidates will be notified for further procedures.
PAYMENT METHOD
Make the payment via telegraphic/wire transfer (transfer to bank account); we do not receive payment through credit card, Paypal, Western Union and cheque.
Submit the payment/transfer receipt to James Bartle (jbartle@binus.edu) and Dewi Fitriasari (dfitriasari@binus.edu).
Bank account detail:
| | | |
| --- | --- | --- |
| Bank's name | : | Bank Central Asia |
| Branch's name | : | Bina Nusantara |
| Bank's address | : | Jl. Kebon Jeruk Raya No. 27, Jakarta Barat 11530, Indonesia |
| Beneficiary's account number | : | 527-029-8771 (USD) |
| Beneficiary's name | : | S1 International Binus |
| Swift Code number | : | CENAIDJA |
The program fee is USD 1,650 that includes:
Doing Business in ASEAN (+3) course and Interships
Daily 1x return transportation from BINUS SQUARE to BINUS INTERNATIONAL, Senayan, Jakarta, Indonesia
Certificate and transcript