3+1 Enrichment: Study Abroad
The Study Abroad program offers you the opportunity to study for one or two semesters at an overseas university and earn credit towards your BINUS degree. It is a once-in-a-lifetime experience where you can immerse yourself in a new culture, study at a prestigious international institution, and enhance your career prospects.
For further information, see the Info Session materials.
Study Abroad for Semester
Application Period
ISEP Exchange
BINUS Partner
Fall/Winter/Odd Semester
January 15
March 10
Spring/Summer/Even Semester
August 15
September 10
If the dates mentioned fall on Sunday, then deadline will be on the day after (Monday)
Highly motivated and assertive
Strong academic record, supported by the latest GPA (Min 2.75 out of 4.00)
Strong English or host country language skills*
Each faculty has different arrangement for 3+1 period. Please consult with your Kajur or Head of Program
University mapping (cooperation between student and Jurusan with IO as a liaison)

The matrix is for reference only. Students are strongly recommended to search corresponding courses on partner universities on their own.
For 3+1 Program, students are required to take 16 SCU per semester. Please consult with your Kajur or Head of Program for details information.

Good personality & maturity
Positively contribute to BINUS and host university
* English Proficiency Test
Generally, for English language skills: TOEFL with score min 79 (iBT) or 550 (paper based); IELTS 6.00.
TOEFL iBT – formal score (strongly recommended)
IELTS – formal score (strongly recommended)
TOEFL ITP (Institutional Testing Program) – (less recommended)
Certificate Language Proficiency must be issued by official Testing Centers
TOEFL iBT issued by ETS (Educational Testing Service)
IELTS issued by British Council
JLPT issued by Japan Foundation
DELF/ DALF issued by IFI (Institut Français d'Indonésie) with minimum level B1
TOEFL Score from BINUS (BUEPT) or other prediction score is not acceptable.
Download and complete the Study Abroad Application Form – BINUSIAN
Submit the form along with the required documents to International Office no longer than the deadline announced. Please make sure that you have completed the entire fields on the application form otherwise we could not process it.
Application Submission
Application Review
Application Clarification: Interview
Result Notification (will be sent through email)
If rejected, please reapply next semester
If accepted, the following procedures can be seen briefly through the chart below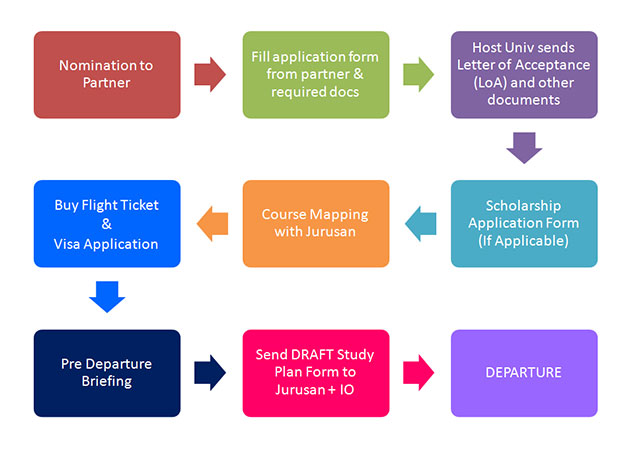 Last updated :