Join ACSN 1st Webinar: Minority Shareholders' Rights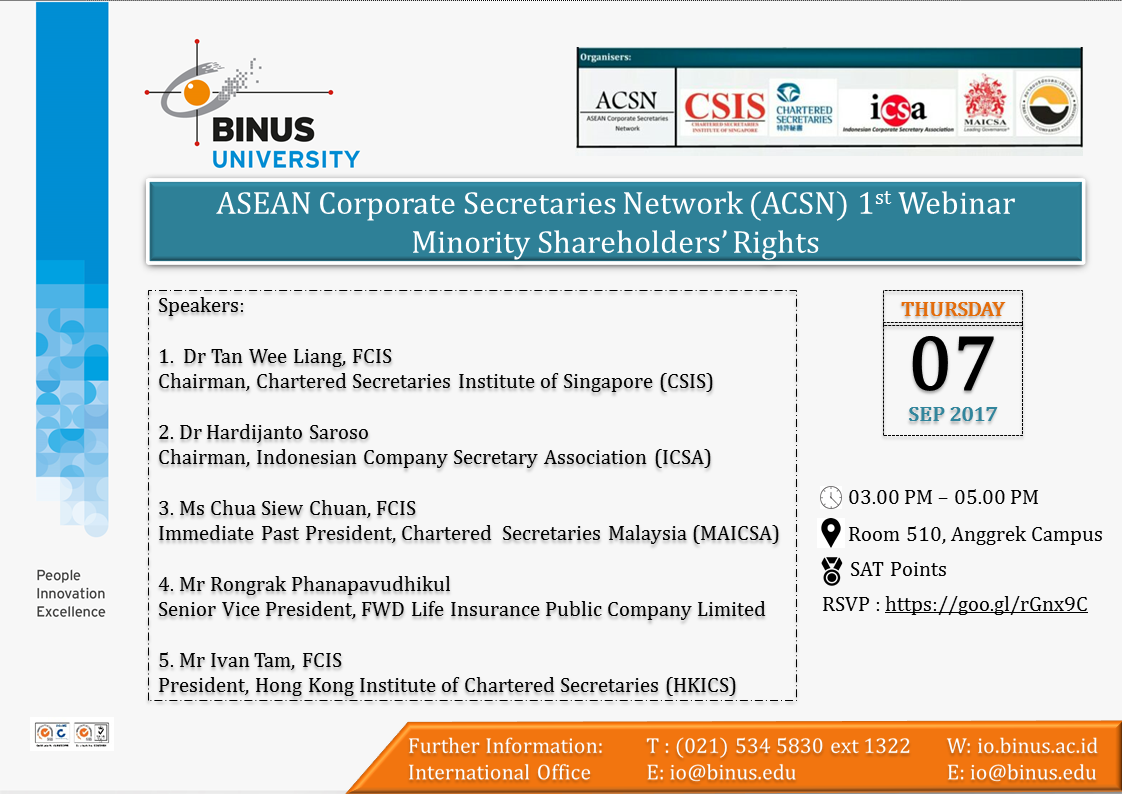 A minority shareholder in a company generally does not have much power to influence the management and its decision. Where as, a majority shareholder almost have an absolute control over its company, its management, and its board of directors. As a minority shareholder, how can you protect your rights and ensure that your interests are not disregarded by the management or company? Minority shareholders can actually do so in number of ways, such as derivative action, unfair prejudice claim, and winding up petition.
| | |
| --- | --- |
| Day/Date | Thursday, September 7, 2017 |
| Time | 3.00 PM – 5.00 PM |
| Place | R. 510, Anggrek Campus |
Dr Tan Wee Liang, FCIS – Chairman, Chartered Secretaries Institute of Singapore (CSIS)
Dr Hardijanto Saroso – Chairman, Indonesian Company Secretary Association (ICSA)
Ms Chua Siew Chuan, FCIS – Immediate Past President, Chartered  Secretaries Malaysia (MAICSA)
Mr Rongrak Phanapavudhikul – Senior Vice President, FWD Life Insurance Public Company Limited
MrIvan Tam, FCIS – President, Hong Kong Institute of Chartered Secretaries (HKICS)
If you are interested and would like to join this online seminar, simply click here. 
International Office
BINUS UNIVERSITY
Anggrek Campus, R. 331 (3rd floor)
Jl. Kebon Jeruk Raya No. 27, Kebon Jeruk, Jakarta Barat 11530, Indonesia
T. +62-21 534 5830 ext. 1322 | F. +62-21 530 0244