BINUS UNIVERSITY and Edinburgh Napier University Establish Cooperative Partnership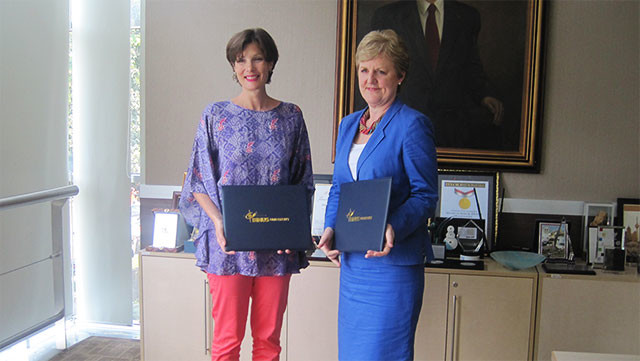 BINUS UNIVERSITY is delighted to announce its partnership agreement with Edinburgh Napier University as the two institutions signed a Memorandum of Understanding, which marks the formal establishment of cooperative partnership between the two universities.
The agreement was signed by Ms. Karen Imam, Director of BINUS Global and Professor Andrea Nolan, Vice Chancellor of Edinburgh Napier University which took place at BINUS INTERNATIONAL campus. According to the initial agreement, both parties plan to develop the cooperative initiative in academic fields, including faculty and student mobility as well as joint research programs.
Edinburgh Napier University is one of the largest higher education institutions in Scotland and named after John Napier, the inventor of logarithms and the decimal point. Founded in 1964, the university grows to be an institution providing high quality education, encompassing six schools of Arts, Business, Computing, Engineering, Social Sciences, and Nursing. Edinburgh Napier University obtained the EU HR Excellence in Research award in 2010 and 2012 for its commitment in supporting and developing research. The Quality Assurance Agency (QAA) for Higher Education in UK also granted Edinburgh Napier University an excellent grade in delivering personalized student experience. In addition, the Business School of this university has won the Small Business Charter Award for its support to start-ups and small businesses. The university has three main campuses located in Edinburgh, one of the most vibrant and beautiful capital city in the country.