Student Exchange Program to Yunnan University of Finance and Economics, China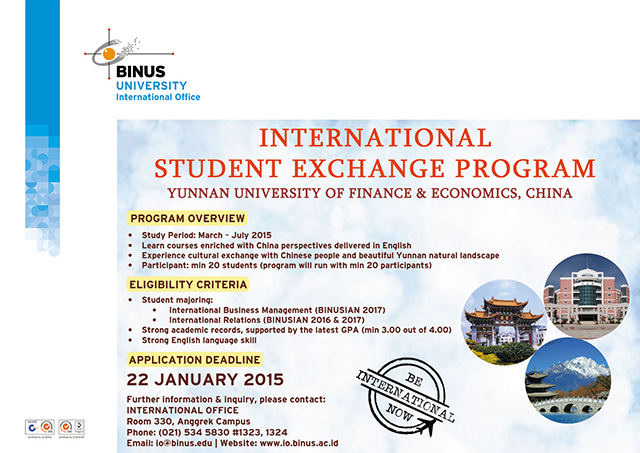 Study Period: March – July 2015
Learn courses enriched with China perspectives delivered in English
Experience cultural exchange with Chinese people and beautiful Yunnan natural landscape
Participant: min. 20 students (program will run with min. 20 participants)
BINUS Students
IDR 12,000,000
Fee includes airfare and visa.
Fee excludes dormitory fee and personal expenses (e.g. living cost, insurance, etc)
DORMITORY INFO
Shared room with 2 people: 1200 RMB / semester
Shared room with 4 people: 600 RMB / semester
Highly motivated and assertive
Student majoring:
a. International Business Management (BINUSIAN 2017)
b. International Relations (BINUSIAN 2016 & 2017)
Has at least completed two semesters of studies at BINUS.
Strong academic records, supported by the latest GPA (Min 3.00 out of 4.00)*
Strong English language skill**
Course mapping (cooperation between student and Jurusan with IO as a liaison)
Good personality & maturity
Positively contribute to BINUS and host university
* Note: others with GPA lower than 3.00 may apply if able to provide/prove other type of awards, achievements, and so on
** English Proficiency Test
Generally, for English language skills: TOEFL with score min 550 (paper based), 213 (computer based), and 79 (internet based); IELTS 6.00.
TOEFL ITP (Institutional Testing Program) – (recommended)
TOEFL iBT – formal score (recommended)
IELTS – formal score (recommended)
Application Deadline:
16 January 2015 extended until 22 January 2015
To apply for this program, please simply follow these steps:
Step 1: Registration& Payment
Fill up the Study Abroad Application Form – BINUSIAN
Make the payment via telegraphic transfer (transfer to BINUS' bank account) and submit the transfer receipt to BINUS IO latest by the deadline announced.


| | | |
| --- | --- | --- |
| Bank's name | : | Bank Central Asia |
| Branch's name | : | Universitas Bina Nusantara |
| Bank's address | : | Jl. Kebon Jeruk Raya No. 27, Jakarta Barat, Indonesia |
| Beneficiary's account number | : | 527-029-6698 |
| Beneficiary's name | : | Bina Nusantara |
| Note | : | "YUFE-NIM-NAMA" |
| Amount | : | IDR 12.000.000 (twelve million rupiah) |

Submit the Application Form along with the supporting documents required to International Office or via email to io@binus.edu no longer than the deadline announced. Please make sure that you have completed the entire fields on the application form otherwise we could not process it.
Should you need further information, feel free to contact us via email to io@binus.edu or visit us within consultation hours (Monday – Friday, 1 – 5 PM).
Step 2: Departure Preparation

Submit documents required for visa application process (we will facilitate your visa application and ticket booking).
Attend the pre-departure briefing (schedule will be informed later).
Notes:


ALL tickets will be booked together through IO, as our partners would not want to arrange for multiple pick up sessions for our students under normal circumstances. For this among other reasons, students should not book tickets on their own.

Check your email regularly for we need your cooperation to make smooth preparation.
Application Submission
Application Review
Application Clarification: Interview
Result Notification (will be sent through email)
INFORMATION & REGISTRATION
INTERNATIONAL OFFICE
R. 330 (Level 3), Anggrek Campus
Jl. Kebon Jeruk Raya, No. 27, Jakarta Barat 11530, Indonesia
T. +62-21 534 5830 #1323, 1324 | F. +62-21 530 1668
E. io@binus.edu
W. www.io.binus.ac.id
Facebook: /binus.io | Twitter: /binus_io